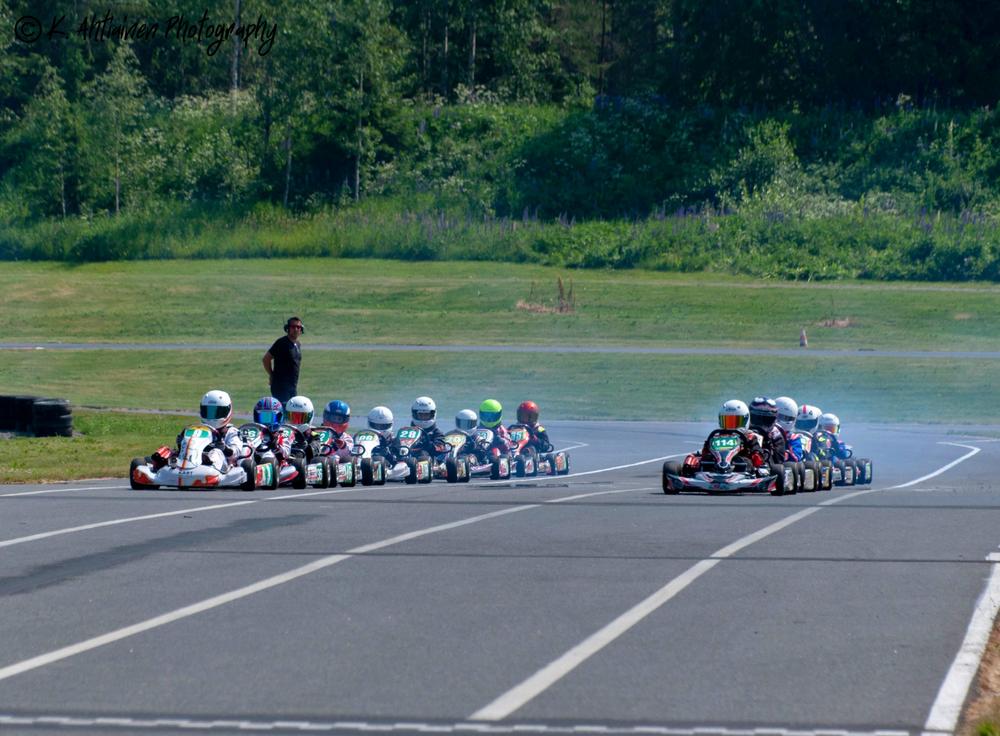 Welcome to PirKa karting track.
Lentola Karting Park, is located in Kangasala. Our website contains information about our club's activities, events and trainings, as well as membership, mainly in Finnish language. Please find below here brief information in English regarding prices, gate instructions and how to get to the track.
For other information in English, please contact: 040-4110118 (calls only)
Karting track address:
Lentola Karting Park,Mursketie 60, 36220 Kangasala
Track coordinates in GWS84 format: 

lat 610 29.306' 

lon 230 58.57' 

The track is located in Lentola, Kangasala - next to the Kallio industrial area.
Price and gate information:
The price to drive at the track is 20€/day and can be purchased in advance (paid before the opening hours of the day in question) or 5€/hour purchased during the same day (at least four hours). Daily track fees will be paid in advance via the online store below: 

https://flextila.com/spaces/484?type=OTHER 

When payment is confirmed, you will receive a personal PIN code to open the gate, which is valid at the time of booking. For race competition trainings, the training day fees can be paid at the café on the track. 

The track is closed to non-participants during official race practice days (Thu-Fri).

Season track fee for members €200. Please contact us for more information at puheenjohtaja@pirka.fi or 040-4110118 (calls only)
Track Opening Hours (1.4. - 31.10.2021):
Monday: Closed 

Tuesday: 9:00 - 20:00 

Wednesday: 9:00 to 18:00 and 18:00 to 20:00 * 

Thursday: 9:00 - 20:00 

Friday: 9:00 to 17:00 and 17:00 to 20:00 * 

Saturday: 10:00 to 18:00 

Sunday: 12:00 to 18:00 

* ONLY the following classes are allowed to drive: Cadet, Micro, Raket85 / 95, Mini60, Okj, Micro Max, Mini Max, and Junior Max. 

NOTE! The track fee must always be paid before going to the track

NOTE! The following dates are Quiet days and weekends for 2021 when the track is closed and driving is not allowed: 

2-4.4.2021: Easter 
1.5.2021: May Day 
13.5.2021: Helatorstai 
22-23.5 2021: Quiet weekend 
25-27.6.2021: Midsummer 
17-18.7.2021: Quiet weekend 
28-29.8.2021: Quiet weekend 
25-26-9-2021: Quiet weekend 

During normal driving days, there may be no more than 10 big class karts driving on the track at any one time. All categories other than those classified above are considered bigger class karts. 

Driving times are based on a valid environmental permit. Driving on the track outside of these opening hours is strictly forbidden! 

There may be a maximum of 34 cars driving on the track at one time. It is the responsibility of each track user to ensure that this amount does not exceed. 

Always check the latest track opening hours, as the track may be closed due to weather conditions, track work, club events, races or other reasons. 

During race practice days (Thu-Fri), the track is closed to non-competitors.